The digital revolution has happened — or really, it's still going on. Businesses are seeing a greater need to use digital tools, whether for marketing, sales, or operations. Even before the pandemic, there was huge pressure to go digital. People love the convenience of shopping online, and they expect every business to have a website — perhaps even some social media.
Now, many teams have gone remote as work-from-home became necessary. And it looks like those arrangements are here to stay.
As a business owner, how can you juggle all these digital transitions? Is it really possible to build and maintain a strong team over Zoom calls? Which digital tools can streamline your operations, and which ones are overkill?
These are all good questions with no easy answers. To achieve digital confidence and build momentum in your business, you must gain clarity.
It all starts with a good understanding of your business that encompasses the 5 P's: Promise, Product, Process, People, and Profit.
Many business owners are making a huge push to get people back in the office. I understand that feeling. When your business has a brick-and-mortar location, it's hard to replace those in-person connections. But it is definitely possible.
When your employees want to (or have to) work-from-home, it's still important to cultivate that team dynamic. Also, perhaps you want to expand your team. There are talented people around the world. Could a 100% remote position provide value to your business without taking up precious office space?
That's what many business owners are discovering. And when many qualified workers prefer work-from-home, you may find that your best people aren't even in your city. So, it's worth your consideration to build remote or hybrid teams.
The secret is to leverage those new digital tools to keep everyone in touch. You don't have to give up team-building exercises or holiday parties. Think outside the box. Here are some ideas:
I recommend you hire an integrator who can set up a project management system and collaboration tools for your team. That saves you the trouble of coordinating all those digital events. Plus, a good integrator can find solutions for employees in different time zones, plan activities to build camaraderie, and so on.
As one of the 5 Ps, your People are a core element of your business. So, many business owners worry that going remote will make team members feel disconnected. But with today's digital tools, you can absolutely maintain a strong team and company culture.
One of my coaches, Joel Weldon, introduced me to the concept of SYSTEM: Saves You Stress, Time, Energy, and Money. In other words, your business needs a system — ideally, one that's simple and intuitive. That way, you're not bogged down with tedious tasks or frustrating miscommunications.
A good system is ultimately a set of good processes. Process is another one of the 5 Ps. And these days, digital technology makes it much easier to streamline those processes.
When you run a brick-and-mortar business, it's natural to keep some things in "analog" format. But let's be honest: the days of the Rolodex and giant filing cabinets are long gone! It takes so much time to manage your finances, lead generation, customers, and operations that way.
Think about the promise you make to your customers. Promise is the core P of the 5 Ps. It drives everything else you do. What value do you deliver? How do you make people's lives better?
The simpler and more reliable your processes, the better you can deliver value.
Especially in today's fast-paced economy, no one wants to wait for your old technology to boot up (literally or metaphorically). By leveraging digital tools such as marketing automation or customer service platforms, you can save your team a lot of tedious work — and create a better experience for your customers. If your Promise includes anything such as "convenience" or "accuracy," that's a huge benefit.
All that said, you can have too much of a good thing. Don't go overboard with digital bells and whistles. The idea is to make your Process simpler so your People can be more productive and your business can keep its Promise.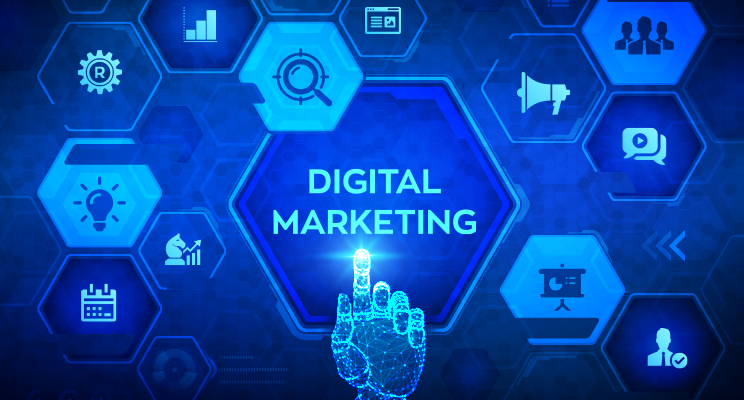 There's nothing wrong with traditional print advertising and outreach strategies. Those definitely still have a place in your marketing plan, especially for brick-and-mortar businesses.
However, it's time to embrace digital marketing. There's so much potential for growing your customer base. Plus, it's often much cheaper than print or radio/TV ads! With many new digital marketing tools, you can even automate much of it.
The real benefit, though, is that you can focus on providing value. Again, this is an extension of your Promise. You're not just asking people to buy your Product from you. You're giving them content that can entertain and educate them. That forges a stronger connection that ultimately creates a loyal customer base.
Consider digital content to be complementary to your actual Product. While it may not directly generate revenue, it will grow your brand's community.
Plus, digital marketing is often more sustainable than old-school strategies. Your email list, social media presence, and so on can gain momentum. The thing about traditional ads is that they go out and then fade from view. A digital approach keeps people engaged (as long as you keep it up!). Just as you host check-ins and parties for your team, you can give your customers a chance to connect with you digitally.
With the digital organization and management tools I mentioned above, all these elements can come together. A simple Process that affirms your Promise makes it easier for your People — both your employees and customers!
And when things are simple and sustainable, they're more likely to generate the all-important Profit.
Wrapping Up
Digital technology can keep your team and customers in touch. Going digital overcomes many hurdles we business owners face — especially in the current economic situation.
Your business's digital transformation doesn't have to be scary or time-consuming. When you keep the focus on your 5 Ps and the "SYSTEM" concept, you'll be able to choose the tools that best serve your business.
If you'd like to dig in a little more on this topic you can watch my conversation on the Simplifying Entrepreneurship Podcast with Crystal Vilkaitis from Crystal Media or watch the full interview below: